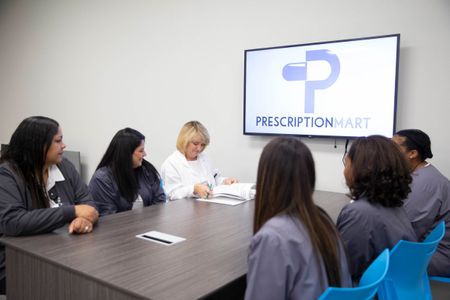 Prescription Mart has been providing mail-order pharmacy services to the community of Beaumont, TX (as well as the rest of the U.S.) since 1994. We've proudly taken on the role of improving our customers' health care by providing fast and personalized service. We strive to make every experience you have with us a great one. Our friendly staff is dedicated to ensuring that you receive expert care - we are all about custom care done right.
Our Vision
Prescription Mart strives to provide customized clinical care to each patient and a personal touch to prescription delivery to create relationships that lead to better health.
Our Mission
Prescription Mart is dedicated to serving our patients' home delivery prescription needs for specialty and maintenance medication therapy. Using a patient-centric focus and evolving technologies, we work to reduce obstacles and improve convenience in delivering custom clinical care using automation and thoughtfully crafted workflows.
Integrity
Our ethics run deep. We say what we mean and do what we say. We communicate openly, honestly, and operate with transparency.
Compassion
We understand and appreciate the emotional and physical needs of all our patients and team members. We care in a BIG way.
Dedication
We are committed to results. By evaluating performance and continuously improving, we desire to be better in all that we do.
Collaboration
We work together, pursuing excellence because our patients deserve no less than our best. We work cooperatively to make the lives of our patients better.
Resourcefulness
We devise unique solutions to the challenges our patients face. Imagination is part of who we are.